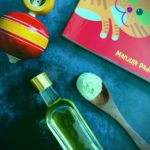 Baby massage oil
₹225.00
A gentle massage oil that keeps your child's skin delicate, smooth and supple and doesn't disturb the child's skin. Massage has many added benefits for your baby, including improving weight gain, aiding digestion, sleep better,cry & fuss less,stay relaxed, improving circulation, and easing teething pain. Massage is a great way for you and your partner to bond with your baby, and you may find it relaxing, too! One study found that massage in the early days could help newborns to recover from jaundice more quickly.When it comes to selecting skin-care products for your baby, you just don?t want to go wrong. Moreover, babies and kids are susceptible to skin conditions and problems. A good body massage soothes crying and fussy infants and, most importantly, helps them sleep. This blend of oils for a massage is a good option, as it has anti-bacterial properties and is easily absorbed into the skin.
Eczema is a skin condition in which the skin becomes very dry and itchy. It is common in infants, but usually disappears as the child grows. Using our massage oil for baby eczema can soothe dryness and provide relief.
This massage oils is infused with calamus ( vasambu), which is a great old treasure to safeguard babies from infections, rashes.
We are aware that not all the essential oils are safe for babies and we exercise care and love as we do to ours, hence the choice of lavender & Chamomile. Chamomile has natural soothing effects and is traditionally used to treat insomnia in babies and adults. Chamomile, along with lavender, can relieve symptoms of colic. Chamomile has also been shown to help anxiety and depression, and can uplift a fussy baby's spirits.Lavender has many calming and sedative effects. A lavender oil massage can help to relax a fussy baby and encourage sleep.Lavender can also be used on insect bites and to reduce itchiness.
Head to toe massage oil
Can be used round the year, doesnt catch fever / cold
Deeply moisturizes the tender skin, keeps skin soft & radiant.
Soothes baby and helps to sleep, Helps anxiety and depression
Uplifts a fussy baby's spirits & Relieves symptoms of colic
Treats insomnia in babies and adults.
Treats Eczema and dry skin, prevents scarring
Shelf life : 6 months from the date of packing
Ingredients
Coconut oil, Sesame oil, Almond oil, Calamus, Lavender EO
Usage
Take required amount, apply over skin, and give gentle strokes. Leave for 15-20 minutes and bathe with Baby soap( Nalangumaavu soap) or Herbal Bath Powder.Safe to be used on newborn, and can Also be used on hair. Suitable for all ages.