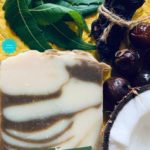 Shampoo Bar- Neem Bringa Brahmi
₹325.00
One of our best sellers , vouched and validated by many! The  goodness of Shea butter, Olive oil, Coconut oil, Neem , Bringa and Brahmi, to fight dandruff, condition and also to control hairfall. one piece solution! with no SLS and no paraben , no pthalates ,being an added advantage to choose a natural product that comes in no plastic packing too.
Fixes dandruff ,
Smoothens frizzy hair  and leaves a silky hair.
Cleanses and restores moisture.
Locks in your hair's moisture and natural proteins, fighting off dehydration and cracked, damaged strands.
Battles Scalp irritations
Made of a hand picked blend of essential oils , oils and butters to help and balance the scalp health.SLS, Paraben, SLES and phthalates free shampoo in solid form to cleanse & condition the hair
Shelf life : 12 months from the date of packing
Ingredients
Coconut oil, Olive oil, Castor oil, Shea butter, Rice bran oil, Lavender Eo, Peppermint Eo, Thyme EO, Teatree EO, YlangYlang EO, Aloevera, Lye, Neem, Bringa, & Brahmi.
Usage
Wet hair, rub the bar against scalp & Hair, Rinse off. Repeat.