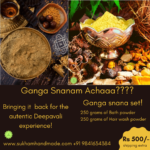 Ganga Snana Set
₹500.00
what's the USP of Diwali? Other than lighting up the whole place, wearing new clothes, eating an unbelievable spread of sweets and savouries, and bursting crackers, it's the bath – as in 'Ganga snanam' – during the wee hours of the morning.
The ultimate experience of the bath is sealed with divinity and authenticity, with the right ingredient. Who else gets it better than Sukham??
A pack of handmade powders of Herbal hairwash, & Herbal bath powder – the right combination to begin the day of celebrating the victory over Evil! 
Handmade, homemade, with no preservatives , chemicals – just as your Grandma made those days!
Hurry , book yours now and get it delivered before ,Diwali!
Packaging
250 grams of Bath powder
250 grams of Hair wash powder
Ingredients
Bath Powder :
Green gram dal , Neem ( in Abundance ) Wild turmeric, Avarampoo , Tulsi , Aloevera , Vettiver , Rose petals , Indian sarsaparilla, White turmeric/Poolankizhangu, Champak, Flagroot, Poosanathu pattai, Karboga rice, Thirumanjana pattai, Pachilai, Marikozhundhu, Vasambu, , Shenbagam, Korai kizhangu,Samandhi, Tulsi, Adhimadhuram
Hairwash Powder  :
Shikakai, Rita, Amla,Curry leaves, neem, Tulsi, Aloevera, Babcha seeds, Nagarmotha, Ananthmool, Vettiver, Avarampoo, Green gram dal, Fenugreek, Mulethi
Usage
Bath Powder :
Take required amount, mix with water and make as a paste. Apply over wet skin and gently rub. Rinse.
Hairwash Powder :
Take required amount, mix with water and make a paste. Apply over wet hair and scalp, and rub gently, washoff and repeat. Can be applied over oiled hair also.