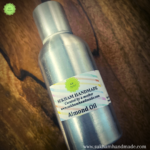 Sweet Almond oil
₹375.00
Almond oil has several potential benefits for skin and hair health. Almond oil is a potent source of antioxidants, vitamins, and other nutrients found in almonds that are vital for skin health.
Almond oil is lighter than other oils and therefore penetrates the skin more easily. It is also absorbed quickly, making it ideal for those with sensitive skin.
Additionally, almond oil can help to treat dark circles and skin conditions like rashes.
Repairs damaged hair
Tams frizzy hair
Promotes hair growth
Suits sensitive skin
Reduces scars
Ingredients
Sweet Almond oil
Usage
Apply over face, Body, Hair and leave for 15-20 minutes and wash off. Can also be used for Babies