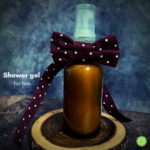 Shower Gel - For HIM
₹175.00
A luxurious body wash, free of Sulphates,  Paraben , made to moisturise and cleanse skin without stripping its natural oils and moisture leaving it soft and radiant. Aloevera to ensure  anti inflammatory properties to protect the skin and deeply moisturize. Cinnamon , Cedarwood, Orange , Lime  act as a natural skin conditioner and brighten the complexion and also refresh & nourish, leaving the skin healthy & toned.
Less drying the skin
Little goes long way
Keeps body odor a bay
Anti inflammatory
Shelf life : 12 months from the date of packing
Ingredients
KOH, Coconut oil,Musk melon seed oil, Unrefined Shea butter ,Aloevera, Distilled water, Cinnamon EO, Cedarwood, Orange EO, Lime EO.
Usage
Take a small amount on a wet loofah, and apply over body. Rub and rinse