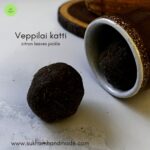 Veppilai Katti (Ciron leaves pickle)
₹150.00
Experience the zesty flavors of South India with our Veppilai Katti, Citron Leaves Pickle. Made from handpicked citron leaves, this pickle offers a tangy, aromatic delight. The traditional preparation and a secret blend of spices create a perfect balance of sourness and spice. Elevate your meals with a burst of authentic taste that captures the essence of South Indian cuisine.
Ingredients
Redchillies, Lemon leaves, Ajwain, Tamarind, Salt , Asafoetida.
Usage
Can be used with Hot rice + ghee, as a pickle as well . Store well in a dry & tight container.