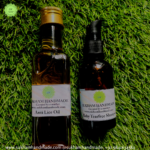 Back to school- Lice free
₹485.00
Combat lice and nits effectively with our essential combo. Our 100% natural Anti Lice Hair Oil is a safe, plant-based remedy, repelling lice, soothing the scalp, and relieving itch without toxic chemicals. Paired with our tear-free Baby Shampoo enriched with Aloe Vera, lavender, and chamomile, it's gentle for all ages, ensuring a tear-free bathing experience and leaving hair silky and soft. A handcrafted, safe, and natural solution to cleanse and protect delicate baby skin and hair.
Packaging
Anti lice oil 100 ml , Baby tearfree shampoo 60 ml
Usage
Anti lice oil
Babt tearfree shampoo:
Wet hair, take required amount and apply over hair, rub to form a lather, rinse. Repeat, if required.
Ingredients
Anti lice oil
Neem , Cold pressed Coconut oil, , Tripala, Essential oils.
Baby tearfree shampoo :
KOH, Coconut oil, Aloevera, Lavender, Chamomile, Distilled water