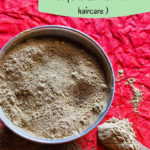 Hair pack
₹225.00
Ancient blend to nourish , strenghten and condition the hair. Hand crafted blend of  to condition hair , nourish scalp , induce hair growth, control hair fall. A perfect haircare totally the natural way. No chemicals – how cool is that ?
Promotes hair growth
Conditions scalp & hair
Prevents hair fall
Prevents dandruff
Strengthens roots
Nourishes hair
Shelf life : 6 months from the date of packing
Hurry! only 96 left in stock.
Ingredients
Shikkakai, Rita, Amla, Indigo, Henna, Spirulina, Bringa, Brahmi, Neem, Lemon, Ananthmool, Aloevera, Jatamansi, Mulethi, Pomegranate, Tulsi.
Usage
Take required amount and mix with Egg whites / curd at room temperature.  Make a paste and apply over roots and hair, leave for 30 minutes. Wash off with  Herbal hairwash / Paraben free Shampoo