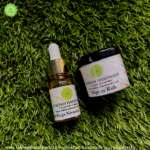 Praana
₹510.00
Gear up well with the best and keep the fear aside!
With the change of weather, it becomes so challenging to keep ourselves safe , healthy.
We hear you, and at Sukham handmade we bring the best of natural remedy with Kabaroga Nivarana Thailam aka the steam oil and vapour rub . An excellent blend of essential oils that help in steaming and reduces the issues with cold, nasal congestion & headache that any virus brings in!*Can be used for babies also
*Eases feelings of irritation and swollen blood vessels in the nasal passages.
*The moisture also helps thin the mucus in your sinuses, which allows them to empty more easily. This can allow your breathing to return to normal, at least for a short period of time.
Helps to alleviate:
Headache
Congested (stuffy) nose
Throat irritation
Breathing problems caused by airway congestion
Dry or irritated nasal passages
Cough
Combo of 10 ml Kaba rogha Nivarana thailam and 33 ml Vapour rub.
Hurry! only 86 left in stock.
Packaging
Kaba Roga Nivarana thailam 10 ml
Vapour rub 33 ml
Ingredients
Kaba Roga Nivarana Thailam :
Essential oils of Ginger , Eucalyptus Radiata , Oregano , Peppermint ,Cinnamon Bark, infused in herbs.
Vapour rub :
Eucalyptus Radiata, Rosemary, Peppermint Eo, Pepper EO, Almond oil, Black pepper Eo, Ginger EO, Basil EO
Usage
Kaba Roga Nivarana Thailam :
*Take few drops and add to your steamer,inhale slowly and deeply through your nose for at least two to five minutes or till you feel comfortable. Don't steam longer than 10 to 15 minutes for each session. However, you can repeat steam inhalation two or three times per day or as needed.
*Take 1-2 drops and apply over the forehead for headache
*Add two drops into the warm/hot water for shower
*you can also have your child sit in a steamy bathroom while you run hot water in the shower for a similar effect.
*Can be used for babies also
Vapour rub :
 Apply over chest, forehead, neck, ribs. Can also be applied in nostrills and taken for steam.