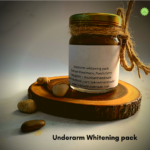 Underarm Lightening pack
₹280.00
No more worries for the dark underarms,  lift your arms with confidence with our Underarm whiteing pack. . Handcrafted with natural ingredients ,  this pack absorbs toxins and reduces the pigmentation.  Kaolin clay, Fullers Earth,  Orange, Lemon & Papapa- act gently on the skin, and naturally bleach the skin.  With the presence of citric acid, this pack, gradually helps in removing dead skin cells and lighten the skin.  Our promise remains the same- no chemicals , no preservatives, and so gentle on skin.
Please store in refrigerator when not in use.
Shelf life : 2 months from the date of packing
Ingredients
Kaoilin Clay, Papaya, Lemon, Orange, Glycerin, Aloevera
Usage
Apply liberally over underarams, and allow it to dry for 15 -20 minutes. Wash off with lukewarm water.