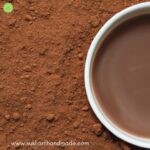 Hot Chocolate Powder
₹225.00
Indulge in pure cocoa bliss with our Hot Chocolate Powder. Crafted from premium cocoa beans and fine sugar, it's a velvety, rich delight. Create the perfect cup of hot cocoa with ease, delivering a comforting, warm hug in a mug. Elevate your moments with this sweet escape – a must-have for chocolate lovers.
Usage
In a saucepan, whisk together the sugar and cocoa powder. Add milk.Place over medium heat until steaming, whisking constantly to avoid burning the chocolate.
Cool to desired serving temperature and serve with your favorite toppings.
Ingredients
Cocoa , Vanilla , Cane sugar, Milk solids